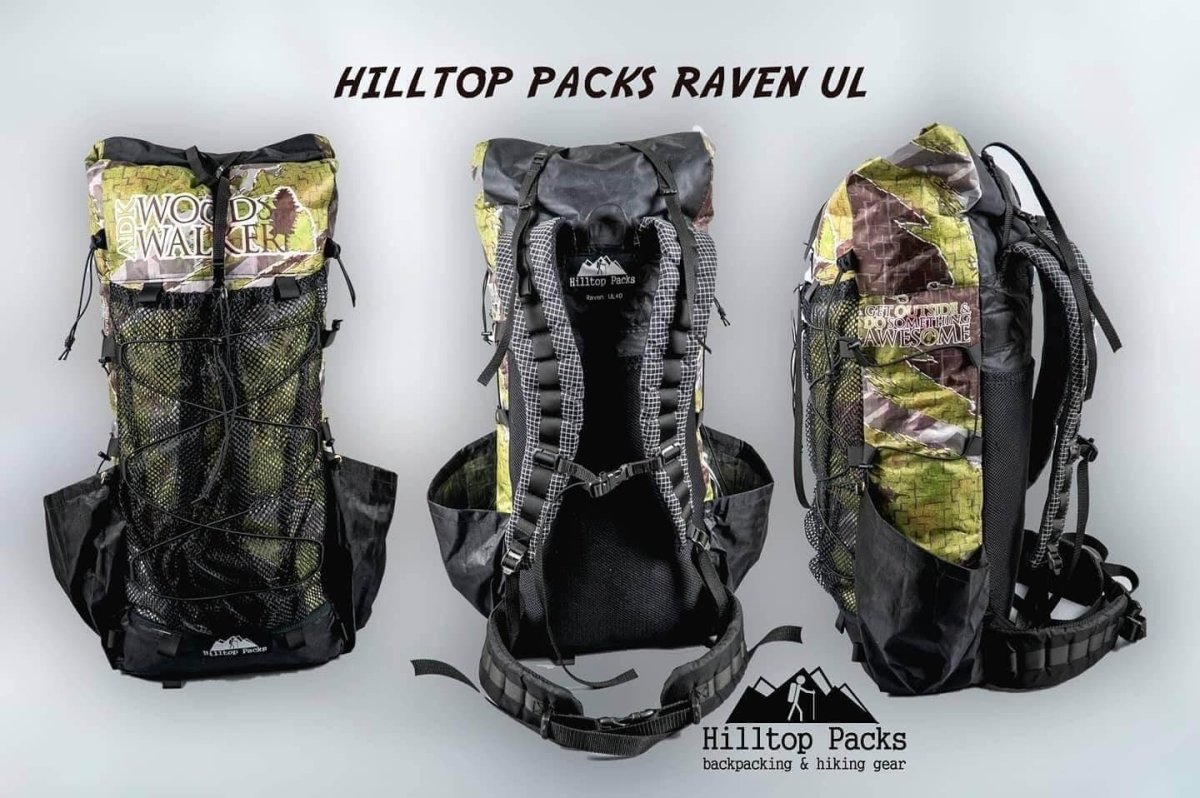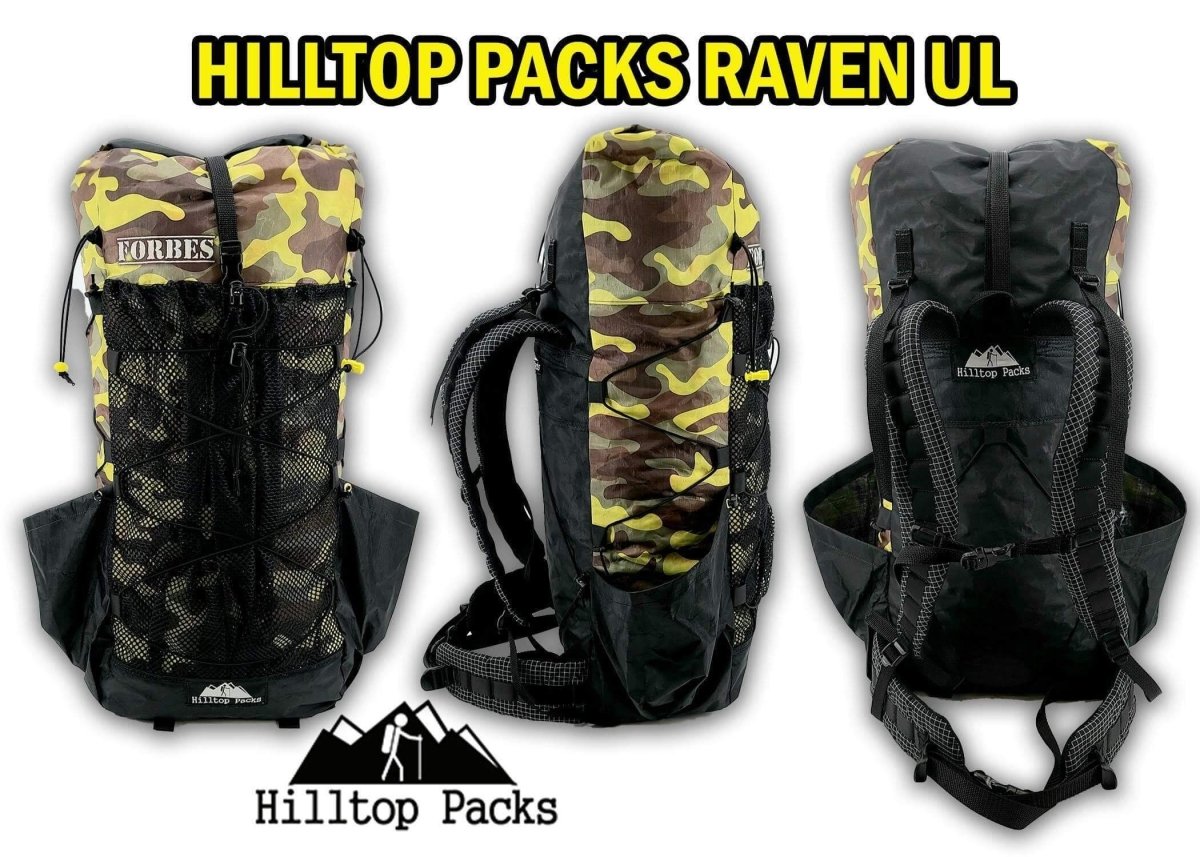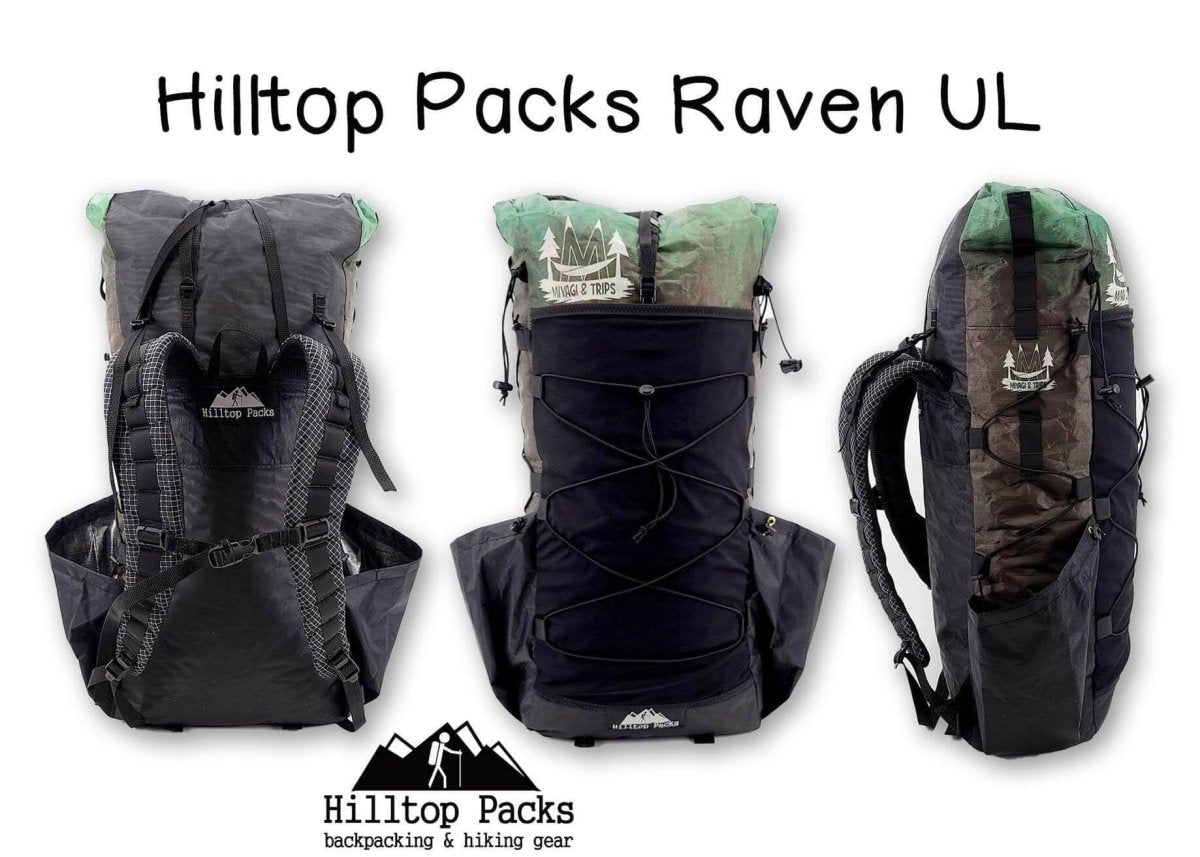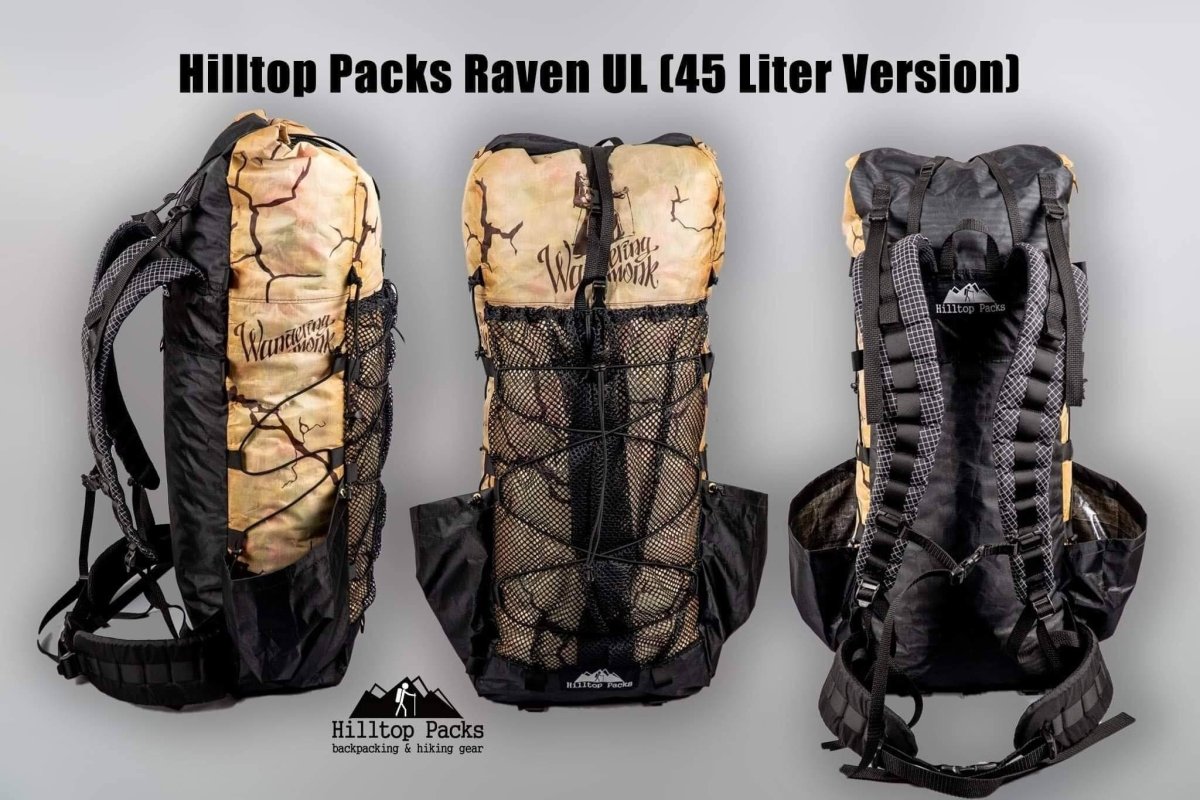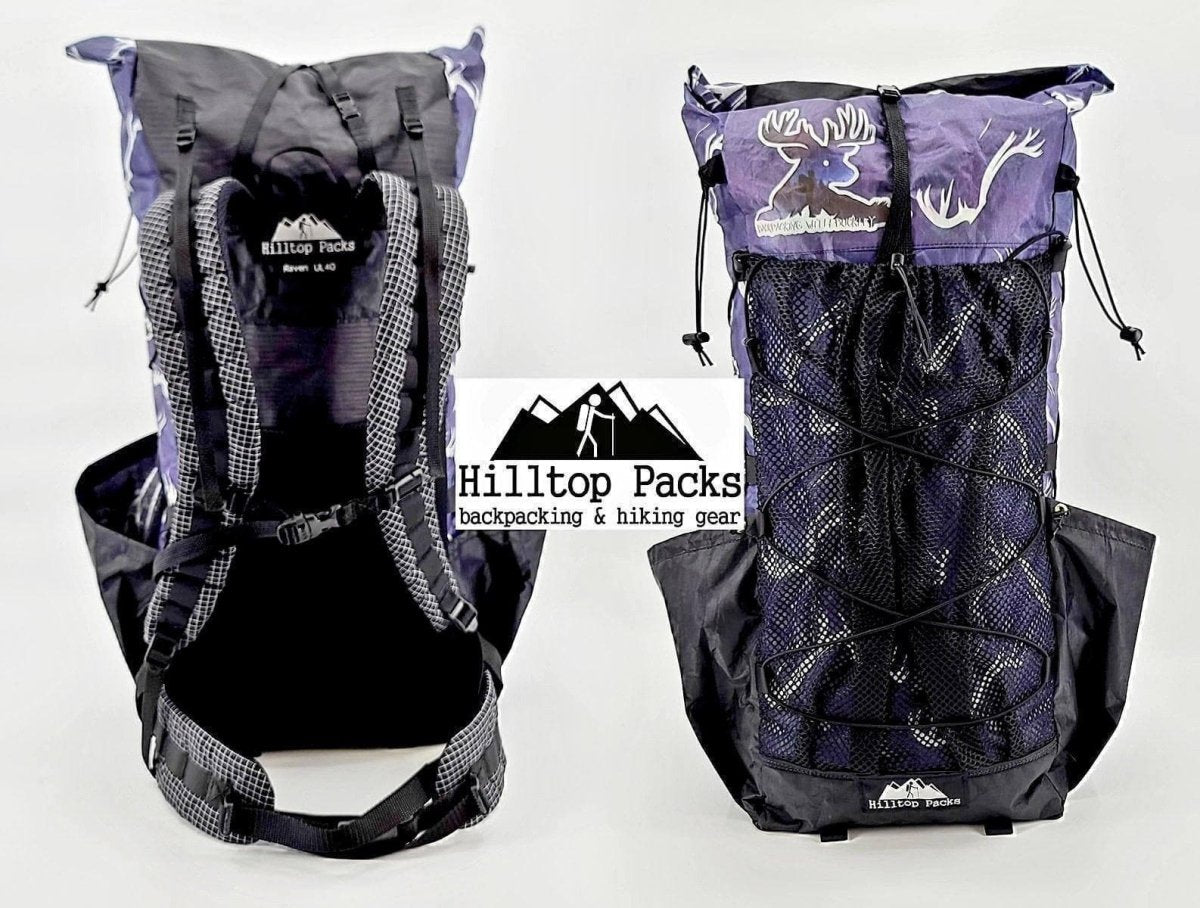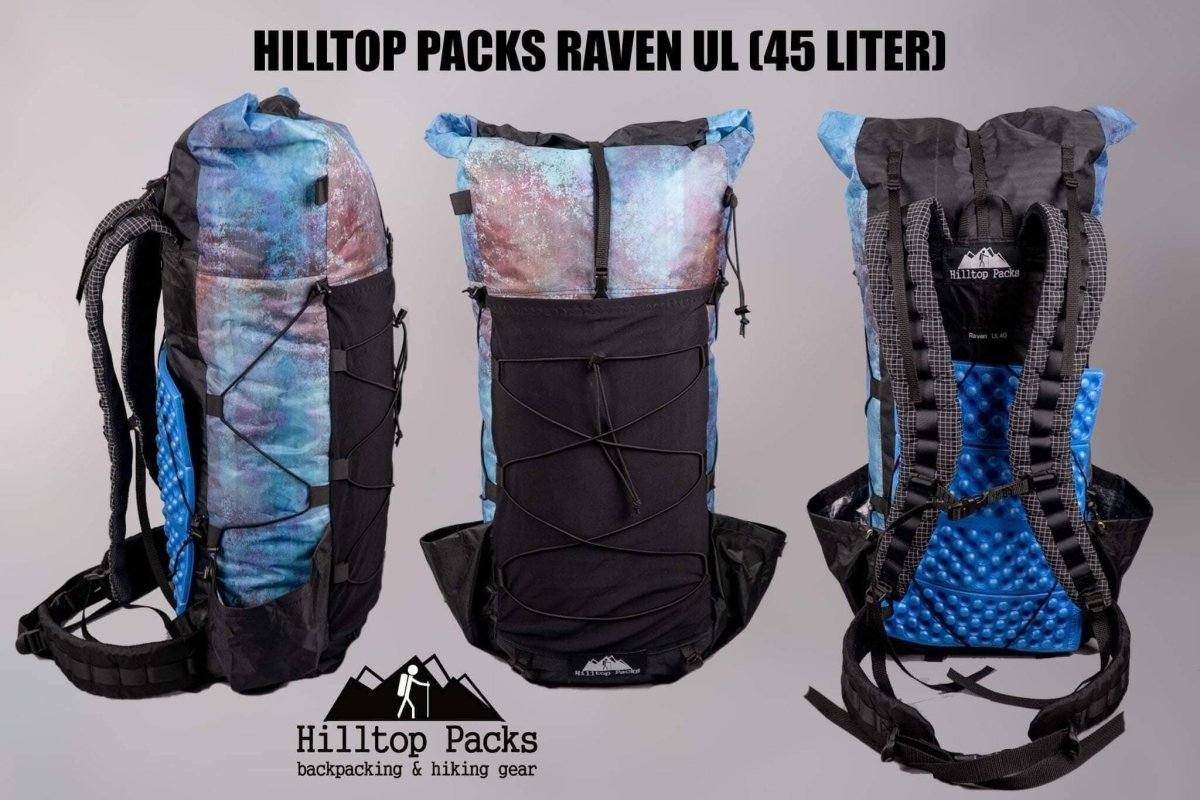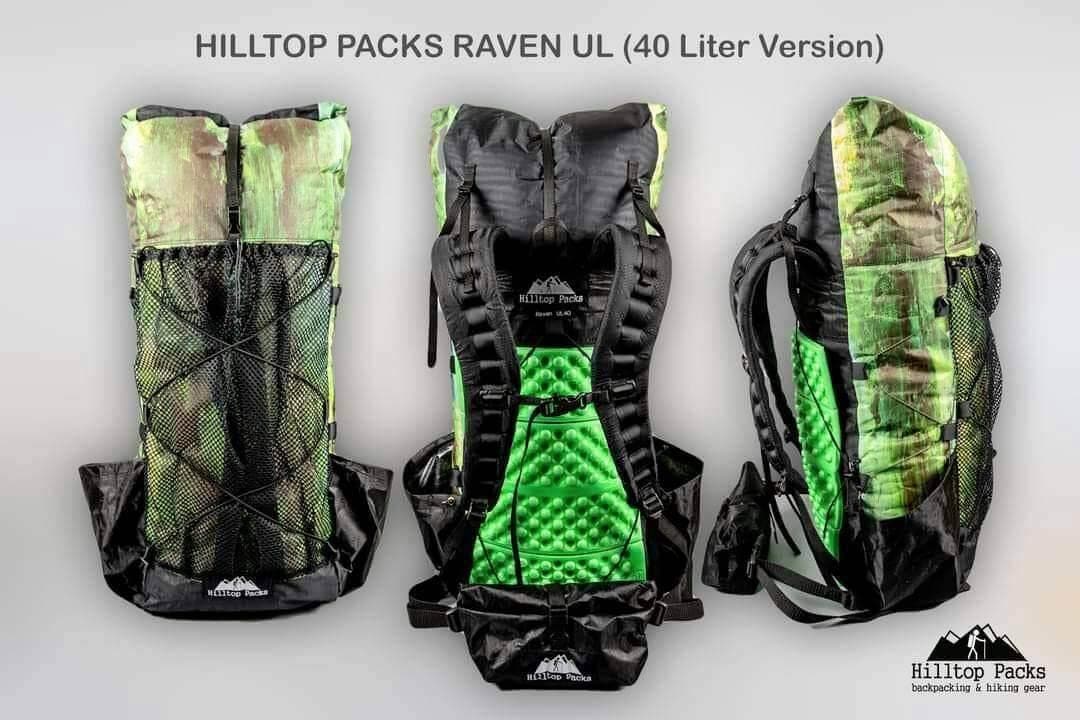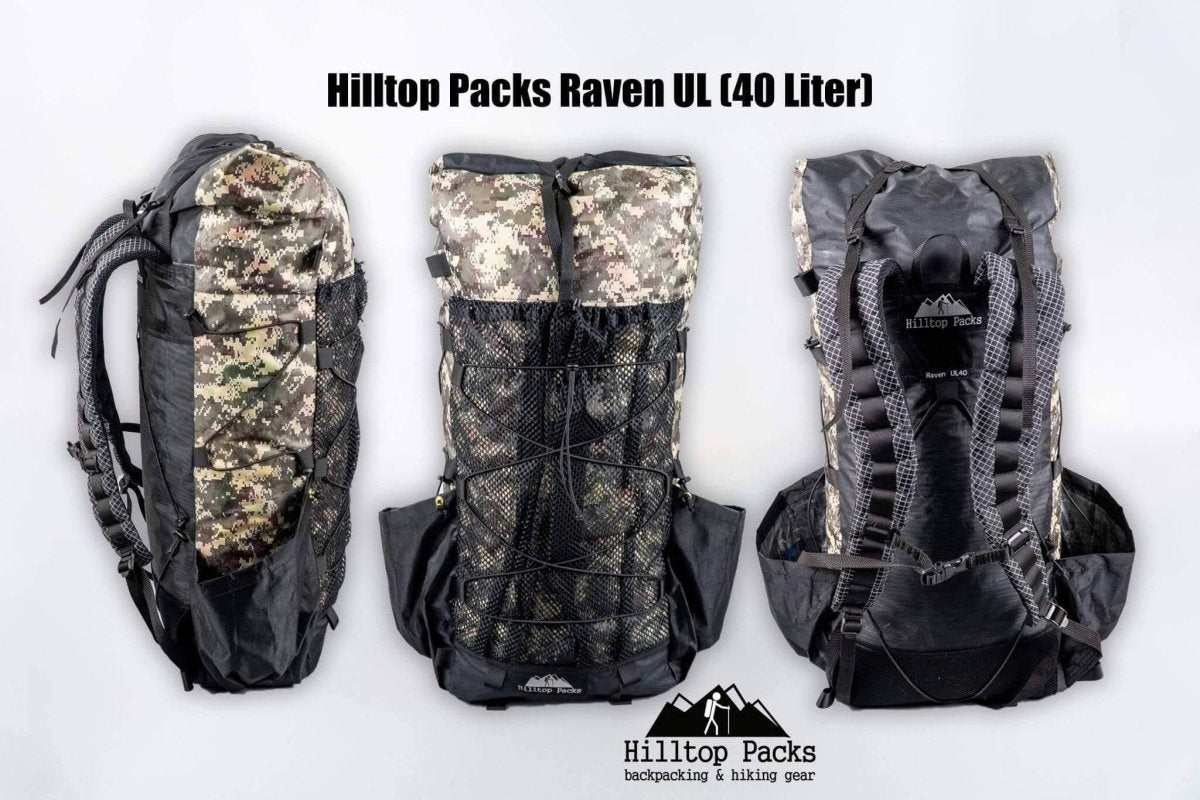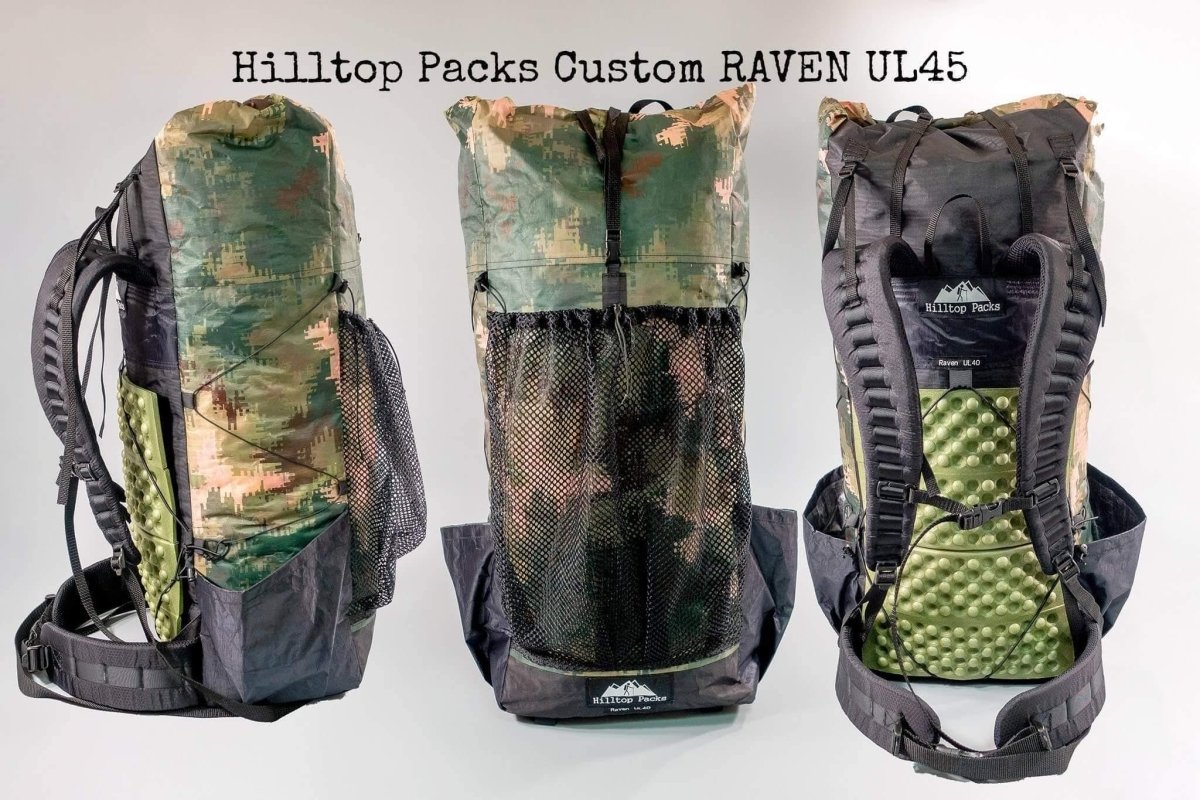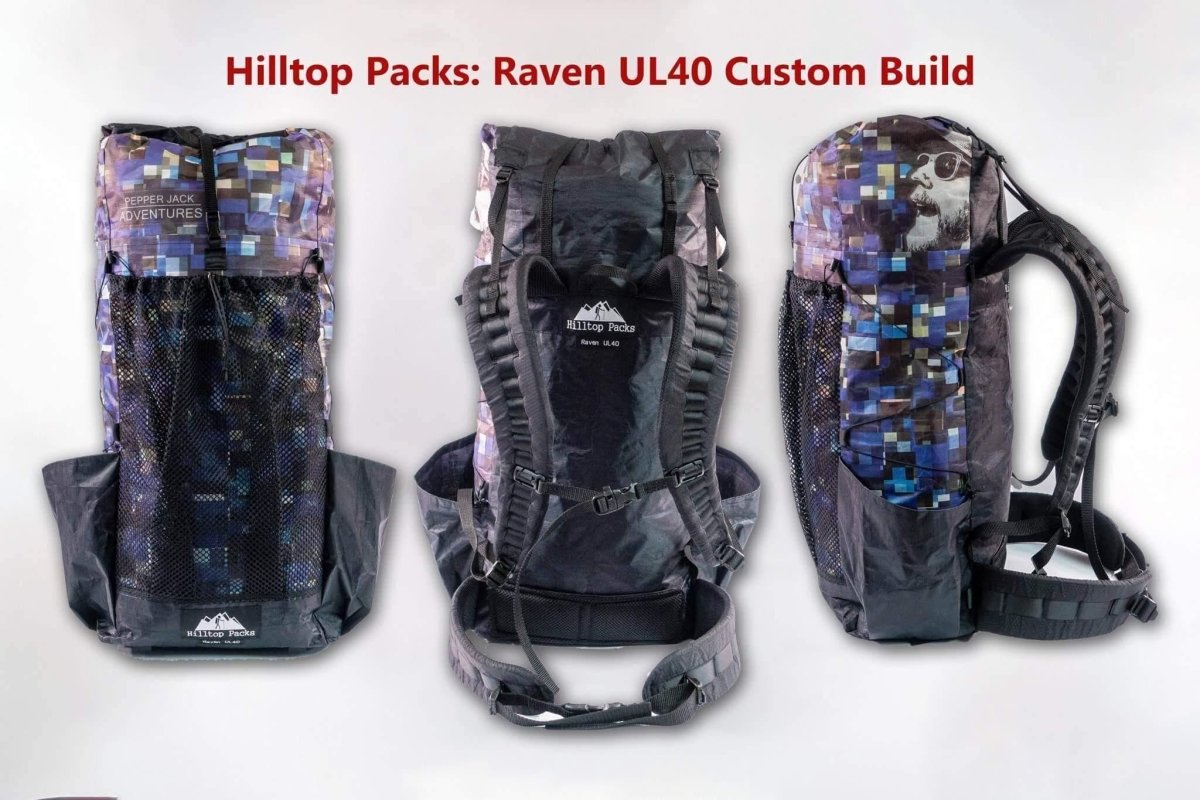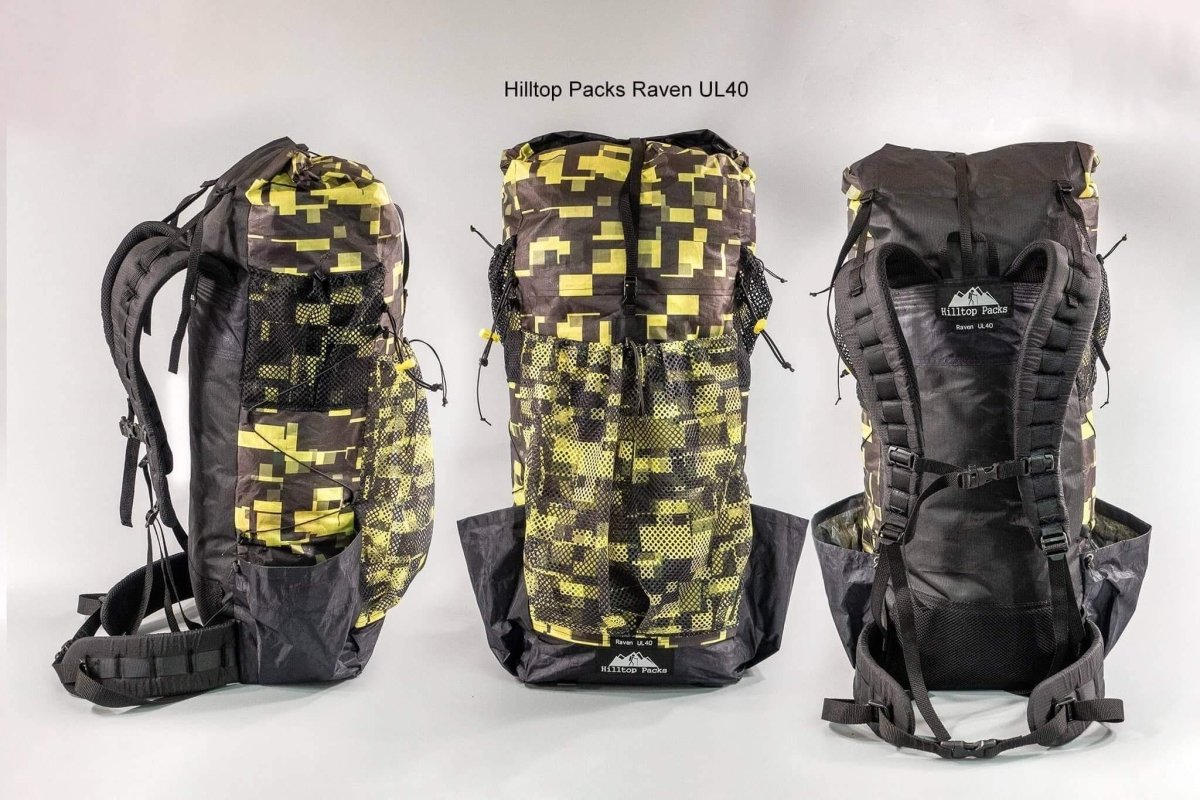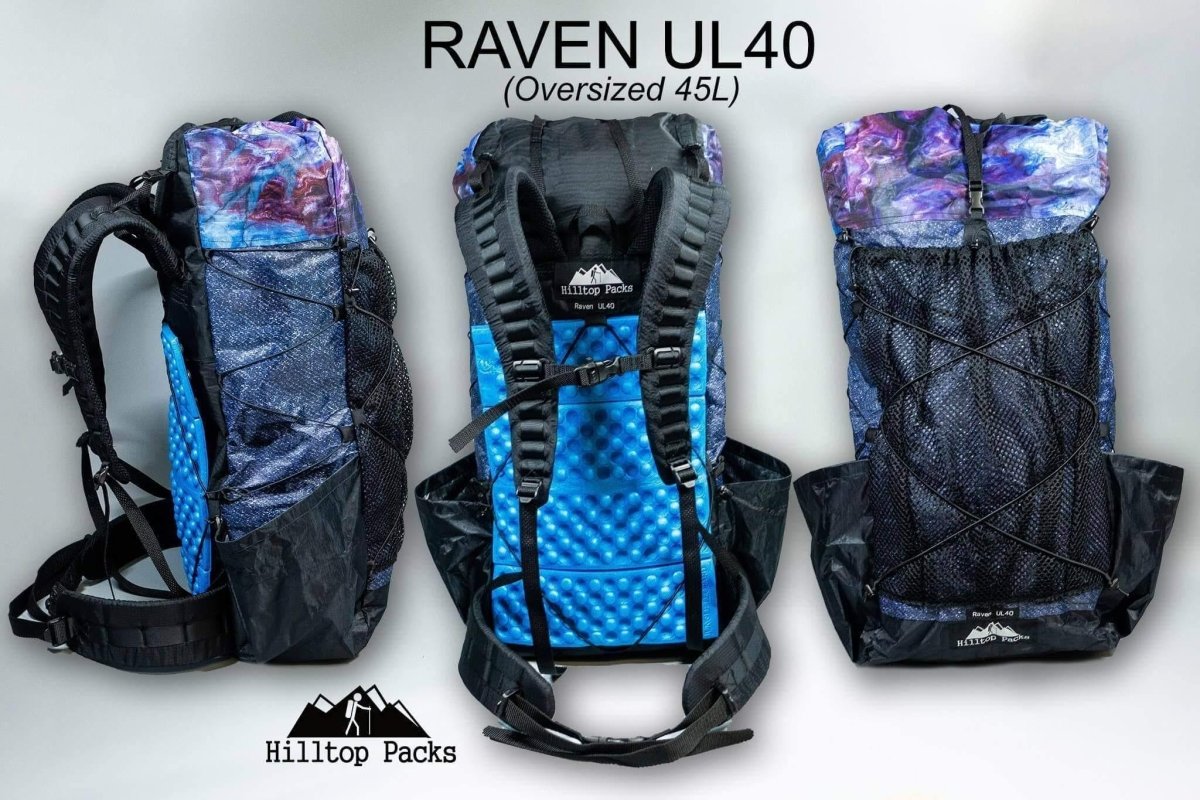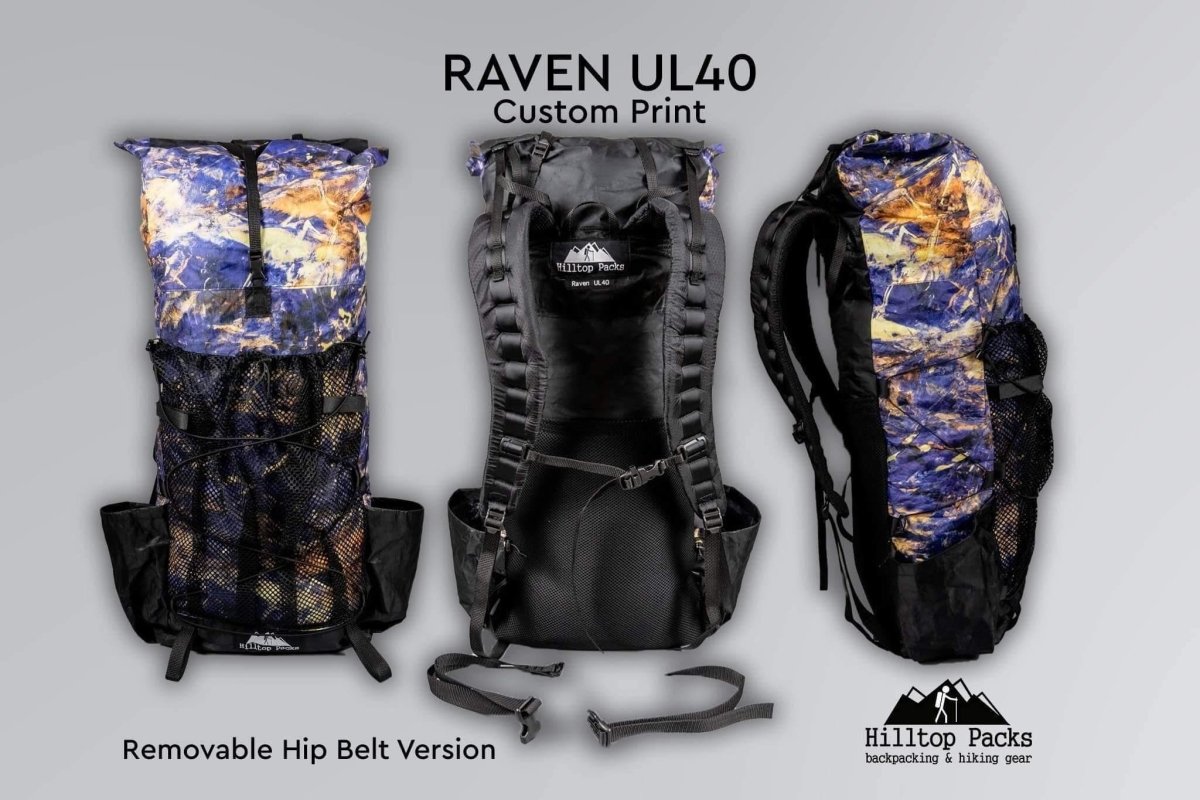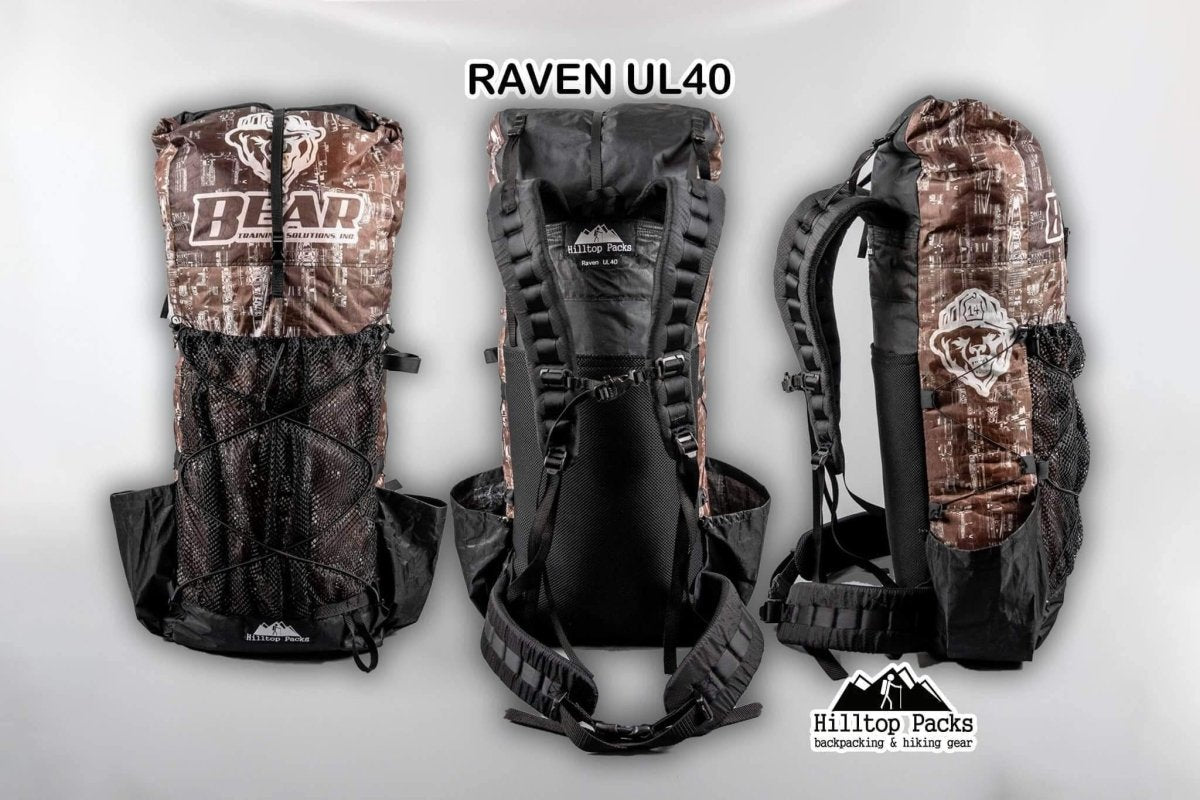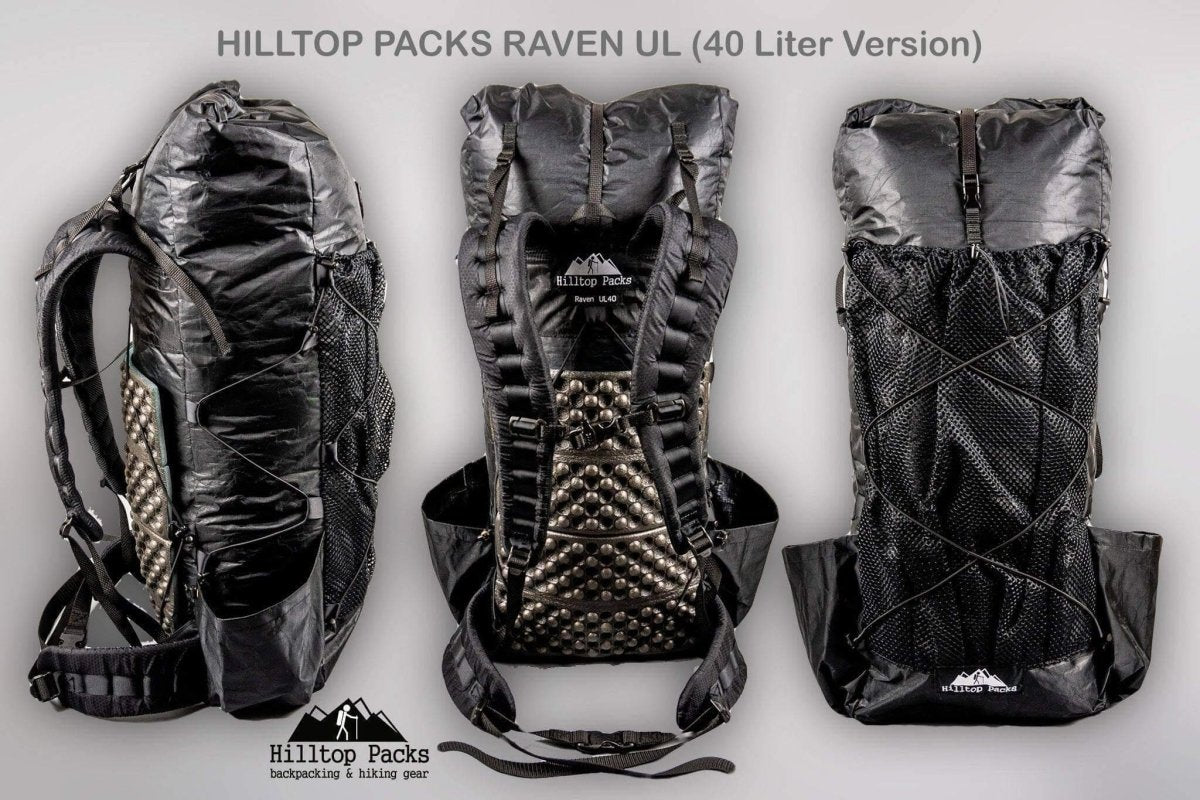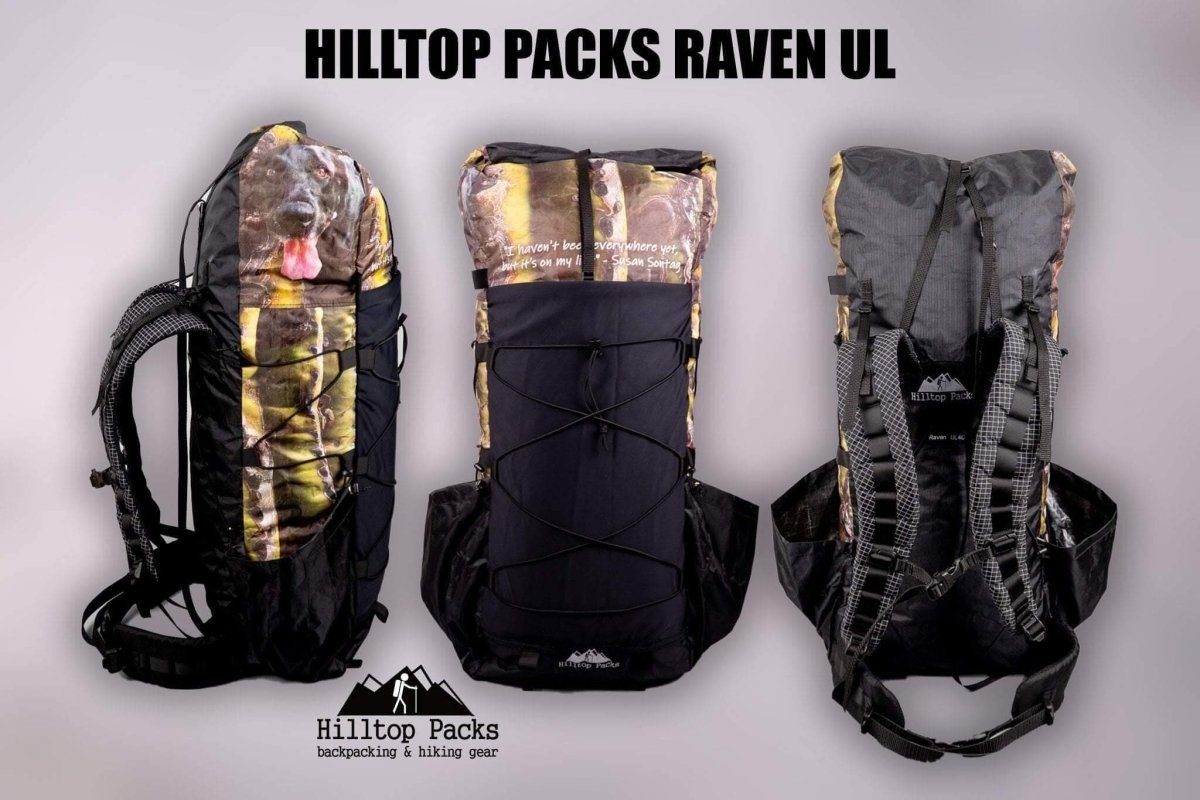 Hilltop Packs
*Currently Out Of Stock. New backpacks will be back online soon
New Updated Version 2 with new options and updated design

The Raven UL is a handmade, fast & light frameless backpack ready to put in some miles. Featuring our custom print options. Fully customized to your body size and style.
BACKPACK PATTERNS
View our available backpack patterns below. There are hundreds available. When ordering your backpack select the corresponding pattern number. Click below to view each set of patterns.
CUSTOM BACKPACK PATTERN DESIGN
Want something completely different? We can do a custom design just for you. Select either "create custom pattern" or "upload your own graphics". After the order and once your pack build enters in the que closer to the lead time date we will contact you to start designing (or uploading) the graphics for your pack.
PACK VOLUME OPTIONS
Available in a 35, 40, 45 & 50 liter volume size. Please keep in mind, volume measurement includes the INTERNAL compartment of the main pack only. Side pockets and front pocket are not included when factoring in this volume size. With our design, your torso size will not affect your capacity volume. Many other companies add up all pockets for total volume. We don't do that. So your 60 Liter pack from REI will most likely compare to our 45 liter Raven.
ULTRALIGHT
We did our best to strip this pack down to a crazy light weight. Depending on options, this pack starts at just 16 ounces. When adding a padded Hip Belt, you are still keeping things under control at around 18-20 ounces.
FEATURES
Made of 2.92oz & 5.0 Abrasion Resistant Dyneema®.
Seam taped for increased weather resistance.
Adjustable side pockets each hold up to 2x 1 Liter Smart Water Bottles.
3" Wide, comfortable shoulder straps with m

ilitary grade grosgrain daisy chain.

Front Pocket Open Air Mesh or Closed Lycra Mesh.
Bottom Stretchy Pocket (optional)
Removable elastic cord tie downs on sides and front over pocket.
Military Grade Grosgrain attachment points all around
37" Tall unrolled. 12" wide. 6.5" deep.
Weight 16oz-20oz depending on options.
Frameless.
Comfort rating total trail weight 25-28lbs. Max total trail rating 30-32lbs. If over 25lbs consider the padded hip belt option.
BACK PADDING OPTIONS
This pack does not include back padding. 
You can use a sit pad as a back pad.
You can use your pad inside the pack as padding.
If you want your sit pad on the outside of your pack, select the elastic cord tie downs.
HIP BELT OPTIONS
1" Removable web strap hip belt
3" Padded Hip Belt
Or, No belt. There will still be loops where you can add a 1" web belt later.
3" PADDED HIP BELT SIZES
Small 28"-32"
Medium 32"-36"
Large 34"-40"
Extra Large 38"-54"
If you plan to lose weight on trail it's a good idea to get size smaller.
ADD-ONS
Ice Axe Loop
Sit pad rear elastic straps
Load Lifters
Bottom Stretchy Pocket (underneath the pack)
Volume Options. Available in 35, 40, 45 & 50 liters
SHOULDER POUCHES
We offer several different shoulder pouches here
HIP BELT POCKETS
We also offer Hip Belt Pockets for both our 3" Padded Belts and our simple 1" Belt Straps. (Coming soon) 
FANNY PACK INTEGRATION
TORSO SIZE

PACK LINER

Each new pack now comes with a free nylofume pack liner!
VIDEOS
LEAD TIMES
Click here for current Lead Times
Where it's made
Made right here in the USA by by Hilltop Packs in Waynesburg PA.
60 Day Return Policy

Buy with confidence. Bought an item that doesn't fit your needs? Maybe you ordered the wrong size? Return it for a full refund within 60 days (Buyer pays shipping). See our full warranty and return policy here
Current Lead Times

Follow this link for current lead times here