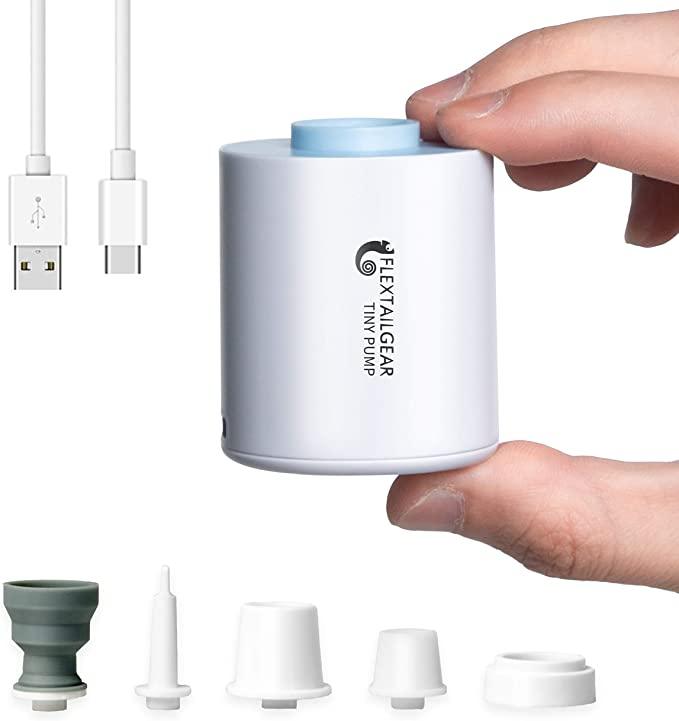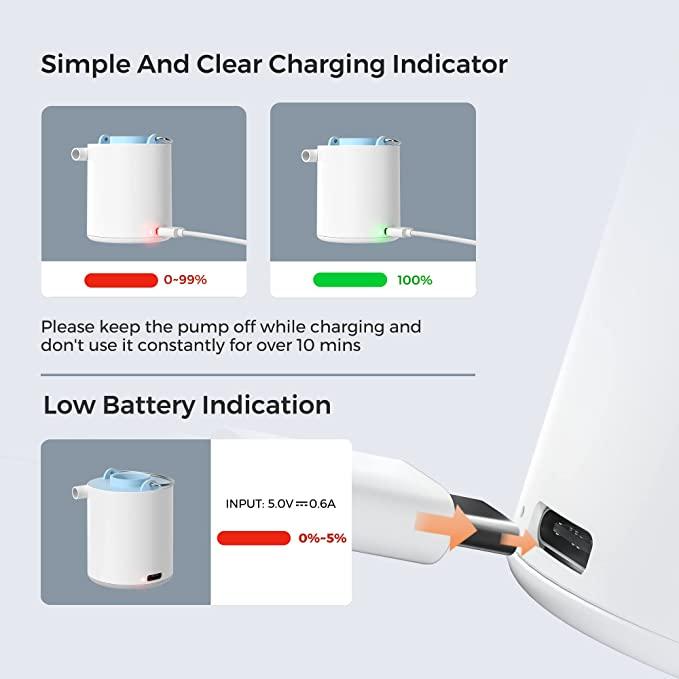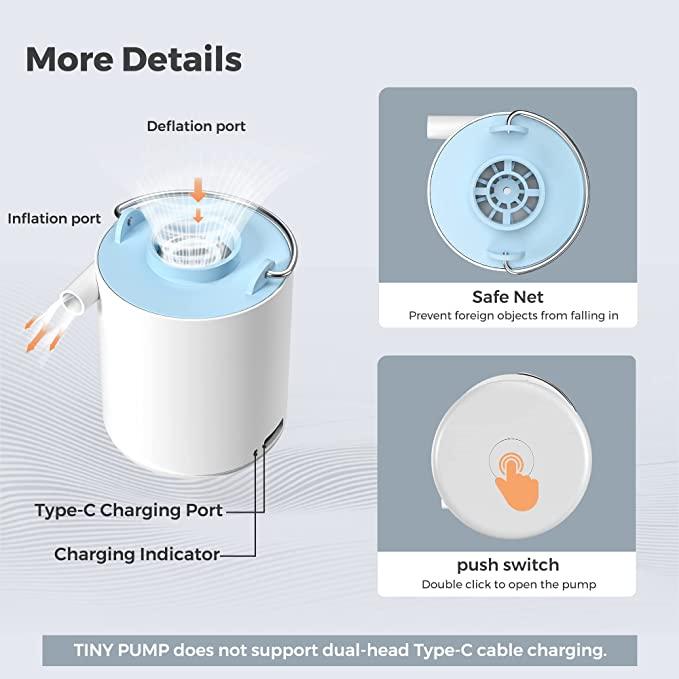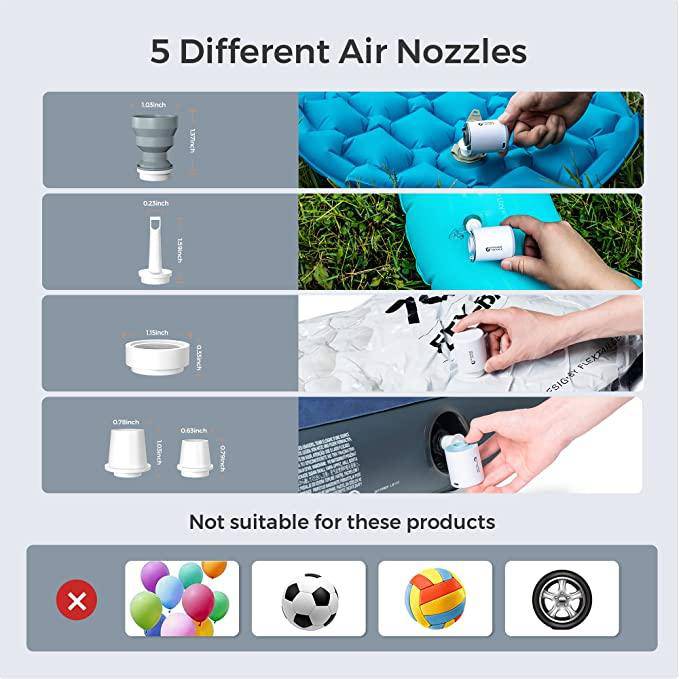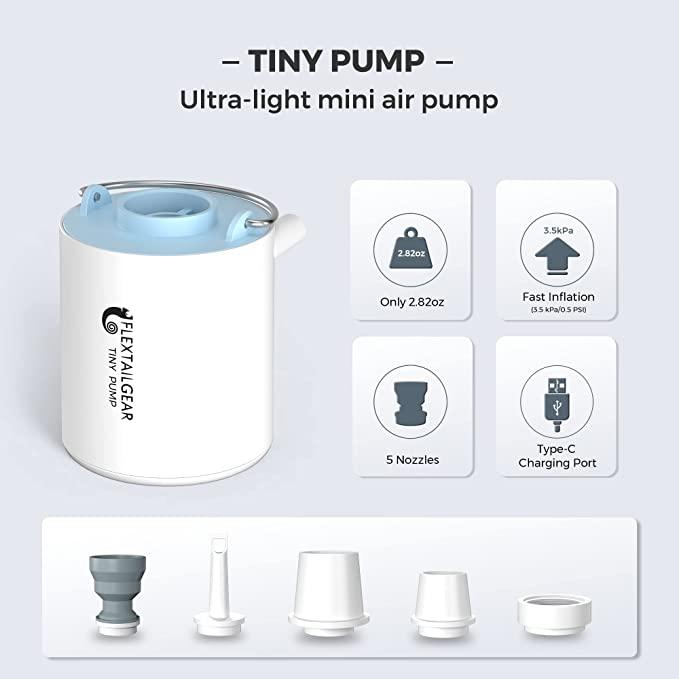 Hilltop Packs LLC
FLEXTAILGEAR Tiny Pump "Original" Portable Air with 1300mAh Battery Rechargeable
1 review
Blowing up your air pad sucks. Use a mini pump instead. The Flextailgear brand is our favorite and the one we use ourselves at Hilltop Packs. Adapters to fit just about any air pad on the market. This version does NOT include the LED light on the bottom. Look for the X version if you want the lighted version which we also sell.
About this item
➤【ULTRA-MINI SIZE & PORTABLE】- Weight: 2.82 oz; Size: 2*1.7*1.7 inch; Flextailgear portable air pump is mini as an egg and light-weighted. Portable to carry, this air mattress pump can be attached to the backpack or put in your pocket. One-button operation, widely used for outdoor camping, hiking, beach, and indoor storage bags. (NOTE: Double click to start the air pump.)

➤【POWERFUL IN/DEFLATION】- The 3.5kPa air pressure and 180L/min wind speed allows Flextailgear tiny air pump to achieve rapid inflation or deflation. Well saturation function after inflation, and increase work efficiency than normal electric air pumps. Able to inflate 4-5 swim rings, 6-8 single camping air mattress, 1-2 thick air cushion, or deflate 10-12 storage bags after one charging. Help to make a fire with air-blow function on outdoor camping (not suitable for balloons).

➤【1300mAh RECHARGEABLE BATTERY】- With 1300mAh lithium battery, our travel air pump works up to 15 minutes after fully charged. The fast type-c port supports 4 ways of charging: power bank, laptop, car charger, or power adapter. Bring Flextailgear TINY PUMP with you, no need of socket or outdoor power supply. Convenient charging indicators: green for finished, and red for 0-99% status.

➤【5 NOZZLES & DIVERSE USE】- Come with 5 nozzles, our small air pump is suitable for most small-large sized inflatable products, such as air mattresses, inflatable beds, pool floats, sleeping pads, swim rings, inflatable furniture, pool inflatables and other inflatable toys. Made of solid ABS material and great sealing technology, this rechargeable air pump is sturdy, well-sealed and durable.

➤【FRIENDLY NOTE ON USE】- To protect the mini air pump, do not use it constantly for over 10 minutes until it cools down. This version doesn't include the camping light function, if you want please choose the "Tiny pump with Camping Light" version. If there's any problem about product quality or use, please feel free to contact us and we will tackle it as soon as possible.
60 Day Return Policy

Buy with confidence. Bought an item that doesn't fit your needs? Maybe you ordered the wrong size? Return it for a full refund within 60 days (Buyer pays shipping). See our full warranty and return policy here
Current Lead Times

Follow this link for current lead times here